COVID-19 INFORMATION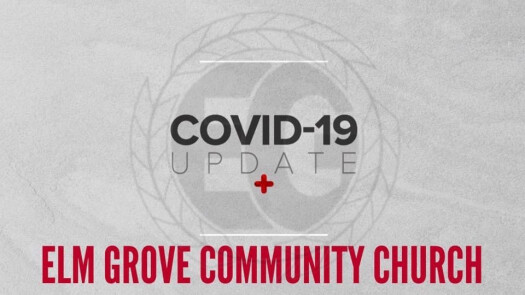 COVID-19 COMEBACK STRATEGY
We miss physically gathering together as a church family and we know that you do too! We are so thankful for technology and all that it is allowing us to do while we cannot physically meet together at our Elm Grove facilities. It has now been over six weeks since we have been able to worship together as a church family under the same roof, and if you are like us, you are looking forward to coming back together again. We want to ensure you that as we come back to worship together, we come back in a safe and responsible manner as we adhere to social distancing and sanitation recommendations as announced by Governor Kevin Stitt.
So we wanted to take some time to answer some of the questions that we have been receiving about gathering together again physically at Elm Grove Community Church.
When Will The Elm Grove Community Church Family Begin Gathering Together Again At Our Chester Location?
We are excited to announce that we have set Mother's Day Sunday, May 10th, as the day for our return to our worship facility. This coming weekend, Sunday, May 3rd, we will be streaming our Sunday Morning Worship Experience online via Facebook, YouTube, and our webpage just as we have been doing over the past several weeks.
Will We Immediately Jump Back Into Our Old Schedule?
On Sunday, May 10th, we will begin by having only our Sunday Morning Worship Experience beginning at 10:30 am in our worship facility. Sunday School, Sunday Night Bible Study, and Community Groups will not be meeting until further notice. We are working on ideas to reengage with these ministry opportunities should strict physical distancing recommendations be extended past the month of May.
What Will You Do To Continue To Follow Physical Distancing Guidelines?
1 Individuals age 65 and above are encouraged to continue to practice "safer at home." We will still have our Sunday Morning Worship Experience streaming online for all of those who don't feel comfortable at this time in a public gathering or for those who are unable to make it to our worship facility. If you have any reservations about getting out in a public setting, we encourage you to stay home and engage with us through our online platforms. Your health and wellness are of utmost importance in the days ahead. This isn't a permanent setting for the rest of our lives. It is just a short season that we will continue to travel with you together in faith and in wisdom until we can all safely return to our Elm Grove family with confidence and peace.
2 Individuals that have underlying medical conditions are advised to remain at home as well.
3 Families may sit together. However, others attending will be maintaining a social distance of at least six feet apart.
4 We will have family oriented worship in our worship facility. Children have a hard time with physical distancing, ok, let's be real, a majority of us adults do as well. But to put parents' minds at ease, we will have children stay in the auditorium with their parents. We will have a special time in each service just for the kids along with activities that they can engage in on their level as the adults are listening to the message coming from the pulpit. There will be no nursery or Power House Kids Church available during our time of worship together until further notice.
5 We will be blocking off seating in the worship facility to ensure physical distancing guidelines are kept.
6 We will have hand sanitizer stations readily available in the entrances to and exits from our worship facility.
7 Our restrooms will be disinfected often, and their use will be limited to only one person at a time. We will also have disinfectant wipes and disinfectant spray in our restrooms for those who choose to be even more cautious and would like to use them upon your entrance/exit.
8 We will have greeters outside standing in front of our main entrance area at least six feet away from the door welcoming people to church and answering any questions that our Elm Grove family or guests might have.
9 Weekly bulletins and/or calendars or any printed material will not be made available in paper form throughout the month of May.
10 We will have locked offering boxes for people who wish to give located on both sides of our media booth as you enter and exit our worship facility. We will not pass an offering plate during the month of May.
11 We are encouraging everyone to bring their own coffees and refreshments with them. There will be no coffee or refreshments served at the church throughout the month of May.
12 There will be no meet and greet type of opportunity during our worship experience. Hand shakes, hugs, or any type of physical touch isn't lost forever, but it is temporarily put on pause inside of our facility until this short season of recommendations come to an end. This has nothing to do with our comfort. It has everything to do with the comfort level of the person you are in direct communication with. In any type of gathering at this time, there will be many different people with many different types of comfort levels. We might feel confident and comfortable in expressing ourselves with physical contact, but due to our love for those around us and our respect for their level of comfort and security, we refuse to put anyone in our church family in an awkward situation of having to refuse or reject that expression. This is going to be probably the toughest restriction of all. We are a church family who loves one another and our expression of that love is just a natural act, almost like a righteous reflex. We will get creative and for just a few weeks find new ways to express outwardly the love we know inwardly we have for one another.
What precautions can people take when they come to Elm Grove Community Church?
We encourage everyone to take certain steps to protect themselves and others from Covid-19, flu, and other illnesses, including:
Washing your hands with soap and water for at least 20 seconds;
Using hand sanitizer when soap and water is not available;
Not touching your eyes, nose, or mouth with unwashed hands;
Avoiding close contact with people who are sick;
Staying home if you are sick or not feeling well;
Covering your cough or sneeze;
Wear a mask if you would like to take an extra step in protecting your health;
Elm Grove Community Church can only reopen upon our establishing a plan for the safety of our local church family and mitigation of the COVID-19 virus in our local facilities. At Elm Grove, we feel we must take the lead and responsibility in providing a safe environment for ministry, worship, and the building up of the body of Christ to be accomplished while establishing safe practices.
As suggested restrictions and recommendations continue to ease, the leadership of Elm Grove will review and revise our practices and schedules. We love you and want to see you again soon! But we want you to stay safe and stay healthy. If you have any needs or questions, please let us know. We love our Elm Grove family and every decision we have made, are making, and will make in the future, we make after seeking Godly wisdom from the Word of God, the spirit of God, and from counsel by Godly men and women. We are also a family of faith and we will continue to operate in faith and in wisdom in the days that are ahead. We will celebrate with all of our Elm Grove family soon. We are one day closer to that special season of celebration and to what we believe will be the beginning of a great revival, renewal, and restoration in our community. We are ready for God to reveal Himself in an incredible way. This is that season and now is the time!